Need Help Understanding Insurance Terms?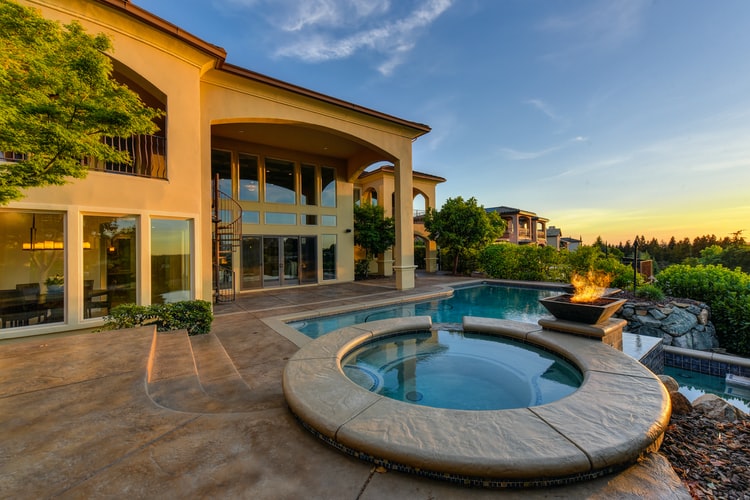 High-value home insurance is a policy with higher policy limits to match the increased value of luxury and high-end homes.
A standard home insurance policy is usually sufficient to protect most homeowners. But for luxury homeowners with a high net worth, this may not be enough.

If you own a high-value home, you need to know how to protect your investment. High-value home insurance generally has a higher policy limit to provide more protection in the event of an underwriting loss.
What Is High-Value Homeowners Insurance?
High-value homeowners insurance is an insurance policy to protect high-value homes. High-value homes are typically homes with a replacement cost value of $ 750,000 or more.

Remember that replacement cost is not the same as the market price of the home or what you pay for it. Replacement cost is based on the cost of rebuilding the home. This includes the total cost of rebuilding: foundations, exterior buildings, floors, cabinets, roofs, built-in appliances, etc.
What High-Value Home Insurance Covers
A high-value homeowners insurance policy covers many of the same things as a standard homeowners insurance policy:
Dwelling coverage for the structure of your home
Other structures coverage for detached garages, fences, and other structures
Personal property coverage for your furniture, clothing, electronics, and other items
Loss of use for reimbursement of additional living expenses if your home is uninhabitable after a covered loss
Personal liability coverage for lawsuit protection if someone injures themselves in your home
Medical payments to cover medical bills from less severe injuries
However, standard insurance policies often fail to meet the unique coverage needs of luxury homeowners, leaving a gap in protection.
The following is the expected value of a typical high-value home insurance policy:
Better Dwelling Coverage
Homeowners' insurance pays for damage to your home under the so-called "dwelling coverage". If an insured hazard (such as fire, storm, or vandalism) damages your home, it will cover the physical structure of your home.
However, some policy restrictions limit the amount that home insurance companies will pay, and standard homeowner policies may not be enough.
With a high-value policy, you will benefit from increased homeowner coverage. Higher limits can give you peace of mind because you have the protection you need.
Higher Coverage Limits
High-value insurance policies not only provide better dwelling coverage but also have higher protection limits for your personal belongings.
Many standard homeowners insurance policies default to actual cash value (ACV) coverage. With ACV, if you make an insurance claim, the insurance company will subtract the depreciation from the value of your items. This means you will get a smaller claim check from the insurance company.
However, by default, high-value policies usually have replacement cost insurance. Using the replacement cost, your insurance company will compensate you at the current market price after your item is lost.
For example, if you lose a golf cart that has been used for 5 years in a fire, the compensation you receive from the ACV policy will equal the value of a golf cart that has been used for 5 years. But the replacement cost insurance is more likely to reimburse you for the full price of a new one.
Additional Coverages for High-Value Homes
Standard homeowners insurance has limitations on its coverage. For example, unless you buy an endorsement, you will usually not pay for damage caused by water or sewer backup.
But a high-net-worth home insurance policy can provide coverage that is not covered by a standard policy, such as:
Computer coverage
Water and drain backup coverage
Landscaping coverage
Business property coverage
Identity theft coverage
Higher limits for loss assessment (for condo and co-op owners)
At no extra cost, your policy may include these additional coverages.
Policy Perks
The old saying "you get what you pay for" is true in some situations. You pay higher premiums for luxury home insurance, but you can get better policies and benefits that are generally not available to standard homeowners insurance companies.
Benefits vary by the insurance company, but may include:
Coverage from hurricanes, tornadoes, wildfire, and other natural disasters
Free home appraisals
Deductible waivers for significant claims
Loss mitigation consulting
The option of a cash payout instead of replacing your home and belongings after a total loss
High-net-worth home insurance policies can also be equipped with dedicated customer service agents. They can file a claim for you, organize an evaluation, hire a contractor, etc.
Who Should Get High-Value Home Insurance?
High-value homeowners insurance is an excellent choice for homes, apartments, rental homes, and personal property with a higher-than-average construction or replacement value.
How do you know if it is right for you? Generally speaking, if you own a home that requires at least $750,000 to replace, you should get high-end home insurance, but other criteria are also important:
The home value is at least $750,000
There are unique features and design elements
It's a heritage home
The home has expensive or unique fixtures
You own fine art, jewelry, rugs, wine, and other specialty items
How Much Insurance Do You Need?
If disaster strikes, your insurance coverage should be enough to rebuild and replace your home and belongings. For example, if it takes $ 1.2 million to completely rebuild your home to its original condition, then you must purchase at least $ 1.2 million in dwelling coverage.
According to the National Association of Insurance Commissioners (NAIC), personal property insurance is typically 10% of your dwelling coverage limit.
Some high-value homes have higher policy limits, so check with your insurance company to make sure you have sufficient coverage.
The value of your total assets is another factor in your insurance needs. If someone is injured in your home, they can file a lawsuit for medical expenses.
Your homeowner's insurance policy includes personal liability protection, but there is a limit. If you are found to be liable and the settlement amount exceeds your policy limit, you may be forced to sell your home or liquidate retirement accounts and other assets.
High-net-worth people are particularly vulnerable to personal liability litigation, but an umbrella policy is an insurance product that can provide you with excess liability, increasing your liability limit to $ 100 million or more.
Best Insurers for High-Value Homes
Using a home insurance comparison tool is a quick and easy way to purchase standard homeowners insurance. However, comparison sites usually do not cater to high-end homeowners.
To get the best protection for your home, consider the following high-value homeowners insurance options:
Chubb's Masterpiece policy
AIG's Private Client coverage
PURE's high-value homeowners policy
Travelers high-end homeowners coverage
Nationwide Private Client coverage
Insurance providers offer different coverage options and benefits. It is best to explore various quotes from various insurance providers to find the one that best suits your needs.
Frequently Asked Questions
What is a high-value home?
High-value homes are typically homes that are worth more than $ 750,000. High-value homes can also have unique design elements or be classified as heritage homes. Due to the high value of these homes, standard home insurance may not provide adequate coverage.
How much high-value homeowners insurance do I need?
The amount of insurance you need depends on the cost of rebuilding the house. This fee is different from the market value and may be higher or lower than what you originally paid for the house. Your insurance policy should cover at least enough money to restore the house to its original condition after the loss is covered. You should also consider the value of your property and other assets to ensure that you are properly protected.
Which companies insure high-value homes?
Several companies offer insurance for high-end residential properties. Some insurance companies include Chubb, AIG, PURE, Travelers, and Nationwide. If you're shopping for a high-value homeowners insurance policy, check your policy options and coverage to make sure it's enough to protect you from a total loss.
What information do I need to get a home insurance quote?
Obtaining a home insurance quote is a simple process. Many homeowners insurance companies offer free quotes online or over the phone. Usually, you need information such as name, address, and date of birth, as well as the size of the house, building materials, and unique features.
High-Value Home Insurance: Is It Right for You?
If you own a high-value home, you may need more than standard homeowners insurance. High-end homeowners insurance companies provide increased coverage, benefits, and perks to protect your high-net-worth homes.
Remember, the more assets you have, the more protection you need. If you are a high-net-worth person with a high-value property, it is important to obtain the proper amount of insurance after comparing home insurance.