Need Help Understanding Insurance Terms?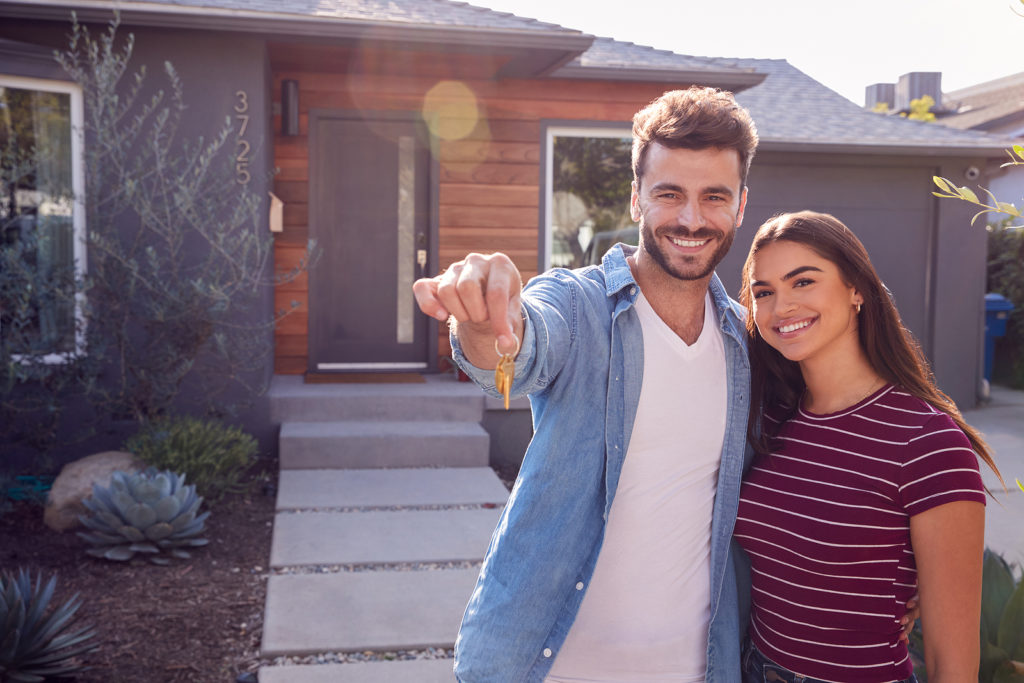 The time required to obtain homeowners insurance can vary from a few minutes to a few days, depending on the insurance company, the age of your home, and whether it is a new home.
When you get a homeowners insurance quote, the insurance company will ask you a few questions about you and your home to help determine the insurance rate. You can get a quote online, in an insurance agent's office, or over the phone. After receiving the quote, it may take a few days to complete the purchase, depending on whether the insurance company wants to conduct a house inspection.
Are you buying your first home? If you need help shopping for home insurance, Ovation can help you get quotes from top insurance companies to find the best insurance rates and coverage. It is so quick and easy!
Homeowners Insurance Requirements
If you fully own your own home, you don't need to buy homeowners insurance. However, just because you are not legally required to carry homeowners insurance does not mean that you should not. There are many ways to cause expensive damage to your home and you don't want to pay for expensive repairs after a fire or other natural disaster or loss. It is best to choose the correct coverage to ensure that you have adequate protection for your home and your belongings.
If you buy through a mortgage loan, the mortgage lender will require you to purchase homeowners insurance to protect your interests. After you suffer a loss, you need to pay the cost of the insurance claim to repair or rebuild your house. You may hear lenders use the term "hazard insurance", but don't let this confuse you. Hazard insurance is just a term that refers to the part of the homeowner's policy that covers the structure of the house. Homeowners insurance covers the structure and your contents up to a certain amount, unlike renters insurance, which only covers your contents.
The homeowner's insurance policy contains many different types of coverage. You can add some policy endorsements to provide more coverage.
If you choose replacement cost coverage, the policy will cover rebuilding your home to current standards. For actual cash value coverage, the home insurance company will only pay the policyholder the actual cash value of the home, that is, the replacement cost minus depreciation. For older homes, the added cost of replacement cost insurance may not make sense and the actual cash value will be sufficient.
If someone is injured or your property is damaged in your home, you will also get personal liability insurance to protect it. If your dog bites your neighbor and destroys his new clothes, the liability portion of your homeowner's insurance may pay for it.
If someone in your home is injured, whether at fault or not, Medical Payments to others insurance (also known as Coverage F on insurance policies) will pay for medical expenses. Most insurance companies have a policy limit of $ 1,000 to $ 5,000 for medical payments during the term of the policy.
Home insurance policies will pay for additional living expenses (also known as loss of use coverage), if you have to move temporarily when repairing your home after covering the loss. Additional living expenses coverage can help pay for necessities such as hotel accommodation, food, storage fees, etc.
When You Need to Get Homeowners Insurance
If you are closing on a home, you must purchase homeowners insurance or set up an escrow account to pay the insurance when it is due. Make sure you check with your lender before closing because depending on the area where you live, you may be required to carry extra coverage in addition to personal property coverage, such as flood or earthquake insurance.
How to Get a Homeowners Insurance Quote
To get your homeowner's insurance quote, you must have certain information on hand, which the insurance company may require to complete the underwriting process. This is a list of useful things to have on hand.
Details about your home (roofing construction material, HVAC type, other home systems, square footage, safety features)
The declarations page of your current homeowners policy if you have one
A copy of your mortgage contract
Your personal information (name, date of birth, telephone number, email address, etc.)
The residence address and the number of people living in your home full-time
How the home is used (primary residence, vacation property, business, daycare, etc.)
Additional coverages that may be needed, such as flood insurance, windstorm coverage, or earthquake insurance
A complete home inventory so you can schedule any expensive personal belongings on your policy
Frequently Asked Questions
How long does it take for my homeowners insurance to go into effect?
When you purchase an insurance policy, you will select the effective date of your homeowner's insurance. The effective date of the coverage is called the policy inception date, which is when the insurance starts on your home. Your lender must stamp their consent before your policy goes into effect.
Do I pay for homeowners insurance before or after closing?
Most lenders will require you to pay a full year's premium before moving in. In this case, you need to purchase an insurance policy before closing. If you have an escrow account, the funds will be allocated at the end of the transaction to cover your homeowner's insurance costs.
What is an escrow fund?
The escrow fund pays home insurance premiums and property taxes each month. When you pay for the house each month, part of the payment will be kept in the escrow fund to cover insurance and taxes. The advantage of an escrow fund is that you don't have to remember to pay for home insurance or property taxes. FHA loans require escrow funds, but traditional loans may or may not have an escrow requirement. Ask your lender about any specific escrow issues you may have before closing.
How can I save money on homeowners insurance?
Several factors determine the price of homeowners insurance, including the age of the house, the amount of insurance you need, your claim history, and the area where you live. There are several ways to save on homeowners insurance costs. One of the easiest ways is to combine your home insurance and car insurance to qualify for multi-policy discounts. You can also choose a higher deductible, which will make the premiums cheaper. Home safety and protection devices, such as sprinkler systems or a deadbolt can also qualify you for a discount of up to 10 percent with certain insurance companies.
Invest in Your Family's Future
Buying a home is one of the most important decisions you make, and it is important to protect your investment through home insurance. If you're a first-time homebuyer, take a moment to research and compare homeowners insurance rates. Finding the right homeowner protection is an important step in securing your family's future.