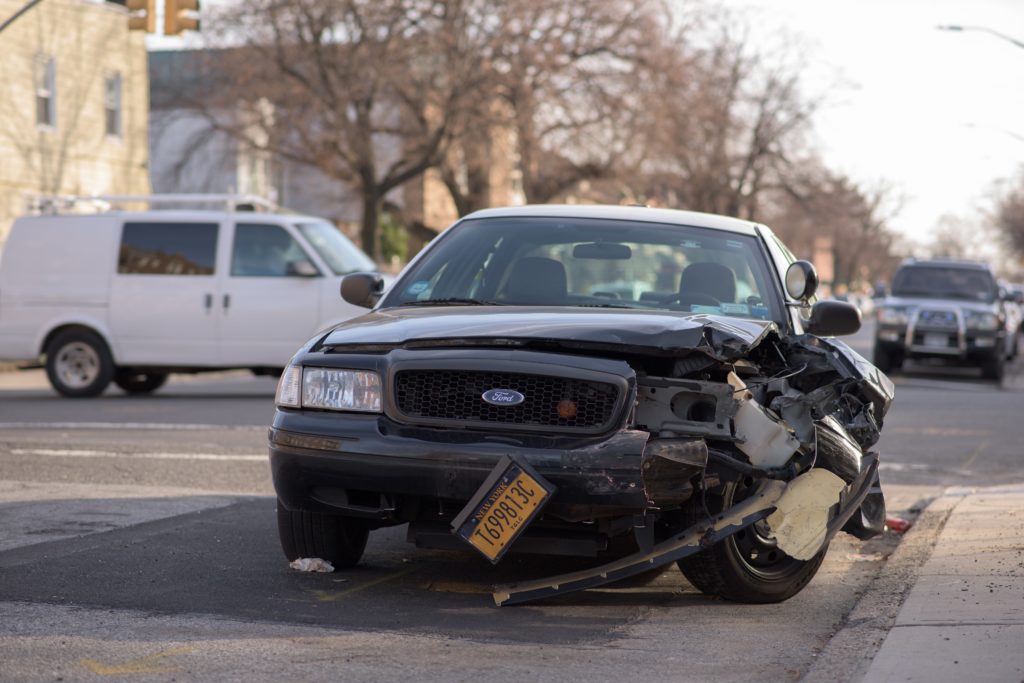 If you've been in a car accident, it's not something you forget and it's not something you're anxious to do again.  But when it happens, who needs to be involved at the scene, and what should or should not be done while you're there?
There are nearly 10 million car crashes in the US each year, big and small combined.  This isn't something you spend a lot of time thinking about until you're in that situation, but once you're there, it's critical.
So here are some easy steps for what to do after a car accident to get you through it:
 1. Call 911 and/or the police – if needed.
First and most importantly, if there are any injuries, get help ASAP.  Make sure you're not in anymore immediate danger and call for help if needed.  Give as much detail as possible so they can send the right people your way.
Second, it's always a good idea to call the police and file a report.  The police do not determine who's fault the accident is, but they can give a factual report of what happened.  Otherwise it could end up your word against the other party's, and obviously that could be problematic.
You are required to report the incident to the police if:
there is an death or injury
the accident results in damage amounting to $1,000 or more
one of the drivers is uninsured
a criminal act caused the accident
If the accident takes place in a parking lot or on private property, the police may tell you that they don't need to file a report since it didn't happen on a roadway.  It's still advisable to have a report filed anyhow to cover your bases.
*Make sure you take down the police report number so that you can report it to your insurance company.
2. Assess the damage.
Be very careful here.  Your first instinct may be to move the car off the road as soon as possible, but you'll want to do a few things first:
Take some pictures of the accident as is
Check for leaking fluids. If you see quite a bit, DON'T MOVE IT.
Check for flat tires. Moving it with a flat or two could do further damage.
Check for strange smells or noises. If you find any, best to leave it alone.
If you find that the car appears to be movable, continue to monitor things but you are legally allowed to move the car off the road.  Otherwise, better call roadside assistance.
3. Exchange information with any other party involved.
It's always a good idea to exchange information.  This speeds things up considerably once you have it.  You'll need:
Names, addresses, and phone numbers of all drivers involved
Year, make, model and license plate of all drivers involved
Insurance company names and policy numbers of all drivers involved
Be careful of implicating yourself, of course.  The police report will help the insurance company determine fault, so you don't need to open yourself up to being viewed as the at-fault driver, particularly when you very well may not have been.
If you feel threatened by the other party, be cautious and/or do not engage.
If the other party prefers to settle with cash instead of running everything through the insurance company, do not accept.  This could lead to numerous liability problems down the road, it'll be your word against theirs, and you won't be able to go back and file a claim on it.  Do it right the first time.
4. Document, document, document.
Take good, quality photos of the scene to accurately show what happened.  Again, this makes things run much smoother when the insurance companies begin to sort things out.  Show the entire vehicle on each side, and get closeups of the damage.  If possible, get photos of the other party's license and license plate as well.
5. Call your insurance company.
Call it in as soon as you can.  You'll want to do this while everything is still fresh in your memory.  They'll want to help you through this as best they can as well.  If you have an agent, call them.  If not, you may call your company directly.  What information should you give your insurance company?
Name, address and phone number of each driver
Policy numbers and insurance companies of each driver
Year, make, model and license plate of each car involved
Photos
A brief description of what happened
Police report number, if applicable
Witness contact information, if applicable
From here, your company will begin to sort things out with you and anyone else involved.  If you are found to be at fault, your company will work things out for everyone.
If the other driver is at fault, then their company will pay for your repairs and injuries.  You may begin the process with your own policy if you'd prefer to get started on it immediately – though you may be responsible for the deductible first.  It would be reimbursed by the other company at the closing of the claim.
Finally, reporting an incident and filing a claim are not necessarily the same thing.  There may be some instances in which it would be better not to file a claim at all, though some insurance companies require that their customers to report all incidents, so you'll want to double check on that as well.
Would you like a copy of your police report?  If so, you can purchase it at www.buycrash.com for the full details of the accident.
Obviously, no two accidents are the same.  It might be simple and straight forward.  You might need a lawyer.  Each situation needs to be assessed, of course, but the thing that remains consistent is this:  always be safe.