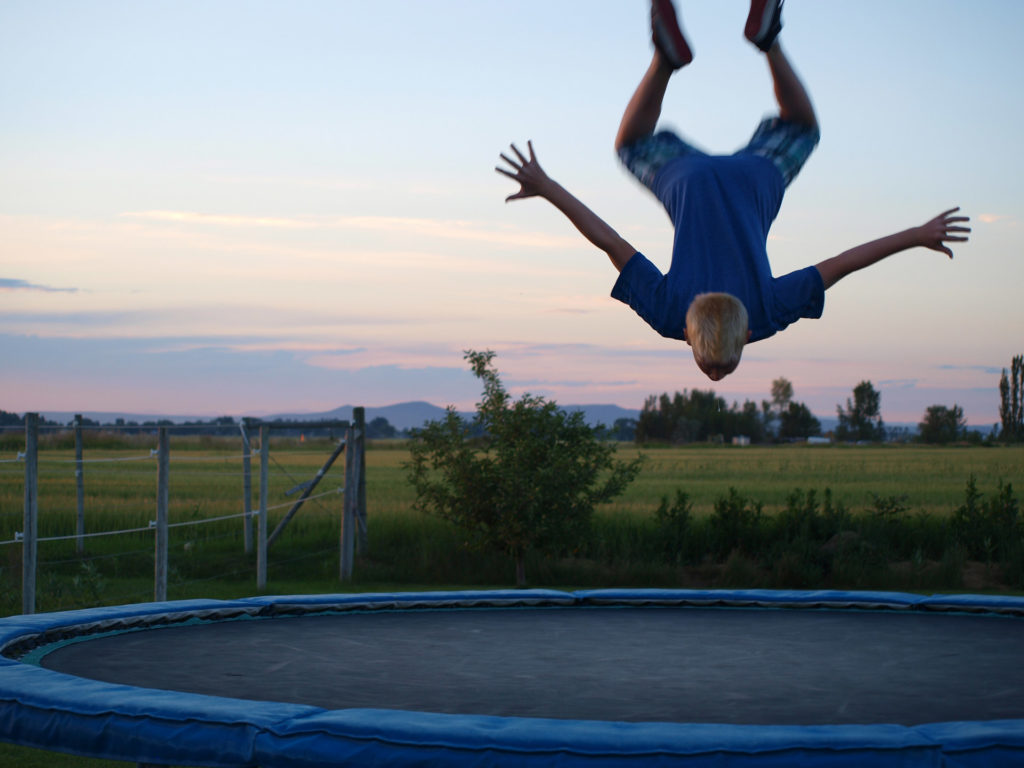 Which homeowners insurance companies allow trampolines?
The kids asked for months and months, and you finally caved. You bought the trampoline. They're so excited! It's hardly standing upright before they're jumping up and down, having the time of their lives. Then your neighbor walks over. "Nice trampoline! How much did it cost? Was it hard to put together? Do you mind if my kids use it from time to time? What did your insurance say about it? Which homeowners insurance companies allow trampolines, anyhow? Because mine didn't, and that's why I didn't get one."
Well, that stops you in your tracks. You hadn't even thought about checking with the insurance company. Now, not only do you need to know if it's covered, you need to know who will insure it if your current company won't.
Get a trampoline homeowners quote now!
Homeowners Insurance Companies that Allow Trampolines
Great news – there are more insurance carriers that will insure a trampoline than you may think. However, it's going to depend on the situation. Do you have a net? Do you have a fence? How accessible is it? Do you have a way to monitor it? Ultimately you're going to want to talk to an independent insurance agent to see which homeowners insurance companies will allow for trampolines. Just know that you will have several options.
How do I make sure I qualify for the best insurance rates if I have a trampoline?
There are a few things you can do to help you qualify for having a homeowners insurance policy that will allow a trampoline. The very first thing you should do is buy and install a net and padding. This is absolutely critical. The majority of the accidents that happen on a trampoline do so because of a lack of a net or padding.
Once you have the net and padding in place, that will qualify you for many of the insurance carriers that will insure you with a trampoline. The next thing you can do is to install a fence around your property, especially if you live in town. The last thing you need is for a neighbor to wander onto your property, onto your trampoline, and severely injure themselves. Coincidentally, you'll also need a fence for a pool as well, but that's another story.
Thirdly, you could also make sure the area is monitored. Installing cameras or a smart alarm system will not only help with your overall homeowners rates, it will help you stay on top of the situation and stop dangerous situations before they happen.
Get a homeowners trampoline quote now!
How much does it cost for a trampoline on homeowners insurance?
For the carriers that do insure the liability for trampolines, the cost is not as high as you might think. In fact, the majority will insure it somewhere between $25-$100/year ($2.08 – $8.34/month), while some may not charge at all. Either way, well worth the price.
Do I have to tell my homeowners insurance company that I have a trampoline?
YES. If you decide not to tell your homeowners insurance company about your trampoline, then you risk misrepresentation which means that coverage for any claim resulting from a trampoline injury can be denied entirely. The last thing you should do is conceal it from the insurance company. Contact your independent insurance agent and they will find a reasonable solution for you!
Can my homeowners insurance be cancelled for having a trampoline?
Yes, it can. If your company does not allow trampolines in any way, shape, or form, then they have a legal right to cancel your policy. Either way, they also have a legal obligation to let you know ahead of time.
Get a homeowners trampoline quote now!
Can I allow a tenant to own a trampoline if I'm leasing a property?
NO. Simply following the precautions on a property that you own and reside in is challenging enough. Allowing it at a property that is not your primary residence will be even more so. And make no mistake, if there is a lawsuit from a trampoline injury, you will be dragged into it. The best thing to do is to specify the 'no trampoline' condition in the lease up front.
Summary
Every year, trampolines cause over 100,000 injuries. There are reasons that trampolines are an additional cost on an insurance policy, and even more reasons for insurance companies to exclude them altogether. Either way, if you decide to get a trampoline, please exercise as much caution as possible to protect yourself.